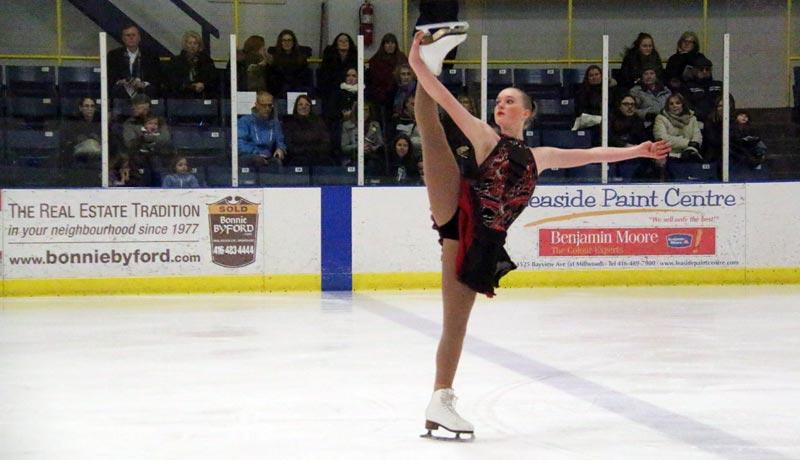 Skills, Tests, Achievement, Recognition – this is what STARSkate is all about!
StarSkate offers opportunities for skaters of all ages to develop fundamental figure skating skills in the areas of ice dance, skating skills, free skate and interpretive skating. Unique in Canada, this program teaches figure skating skills in a group and/or private lesson format in a progressive and sequential manner and includes specifically designed awards and incentives. Skaters have the opportunity to take Skate Canada Tests through a nationally standardized testing system. Skaters who have mastered figure skating skills in StarSkate may also choose to pursue synchronized skating or pairs skating.
The StarSkate program consists of figure skating skills in four areas – Skating Skills, Ice Dance, Free Skate and Interpretive.
*New 2017 *Requirements for StarSkate Programs:
Skaters must have passed a Skate Canada CanSkate Badge 6
Star 1 and 2
Must have a private coach and be interested in out-of-club singles competitions and/or testing
*New 2017* Committed to 2 sessions per week
*New 2017* One day membership only offered to Beginner 2 Meraki members Or skaters registered at another club
Skaters must have (and must have a private coach):

*New 2017* Committed to StarSkate Competition Team at Star 3 or higher
Senior Bronze Dances
Senior Bronze Skills
*New 2017* Star 5 FreeSkate (Junior Bronze FreeSkate)

Star 3 to 10 Skaters are included
Skaters are encouraged to speak with their coach regarding session enrollment
Sessions will be assessed in the first 2 weeks to ensure correct placement of skaters


Note: The StarSkate program is currently being updated and the club will be rolling out new materials and curriculum as they are delivered from Skate Canada. For more information visit the StarSkate Program!